In this installment of legal advice, MCN wanted to look at two things which affect most bikers every time they get on a bike.
Filtering or wearing a tinted visor may seem like the thin end of the wedge on the scale of legality, but as with everything you do on a vehicle there are legal considerations to be taken.
Once again, we have consulted legal expert and MCN columnist, Andrew Campbell.
TOP STORIES
Triumph Scrambler, the story so far
Expert guide: 5 Supersports for under £3,500
How to make a clean hill start
Advanced tickets available for Motorcycle Live
Filtering through traffic
Filtering refers to a form of overtaking or undertaking very commonly engaged in by motorcyclists. Riders are permitted to filter along the side of stationary or slow moving traffic and are even required to filter in order to pass their motorcycle test.
How loud can your exhaust be?
They do, however, need to exercise a high degree of caution when doing so. Accidents involving filtering and overtaking commonly result in a split in liability - that is whose fault the accident was.
Relevant factors in determining the basis of such shared blame include; the speed of the filtering motorcycle, the speed of the traffic being filtered past, whether the filtering is being done on the offside or onside of the line of traffic or the presence of a junction in the road.
A party"s knowledge of the road layout will be taken into consideration
Liability could also be affected by whether anything could have indicated to the motorcyclist that it was not safe to be filtering (such as a gap in the line of traffic suggesting a car had been flashed to pull into it, a car indicating to turn right down a side road or a car positioned towards the middle of the road with a junction to its right).
A party"s knowledge of the road layout and the direction from which they could expect vehicles to be coming will be taken into consideration, as will whether the other vehicle involved had seen the motorcycle prior to the collision (commonly they have not - an indication of negligence).
Is popping a wheelie illegal?
The degree of "contributory negligence" or the injured party's share of the blame usually rises in direct correlation with the speed of the filtering bike. Junction filtering accidents often attract criticism from the courts due to it being reasonably foreseeable that vehicles will be turning so to filter at a junction is inherently dangerous. In cases of U-turns causing an accident to a motorcyclist, the biker is often awarded 100% of his compensation.
Tinted visors
If you ride with a visor or goggles they must either meet a British Standard and display a BSI Kitemark or meet a European standard offering at least the same safety and protection as the British Standard and carry a mark equivalent to the BSI Kitemark (UNECE Regulation 22.05).
During daylight hours a tint of up to 50% is ok according to official Government guidance. Legal tinted visors will be marked "For daylight use only". Before setting off, make sure your visor is clean and free of smudges, scratches or marks which could affect your vision, especially in strong sunlight.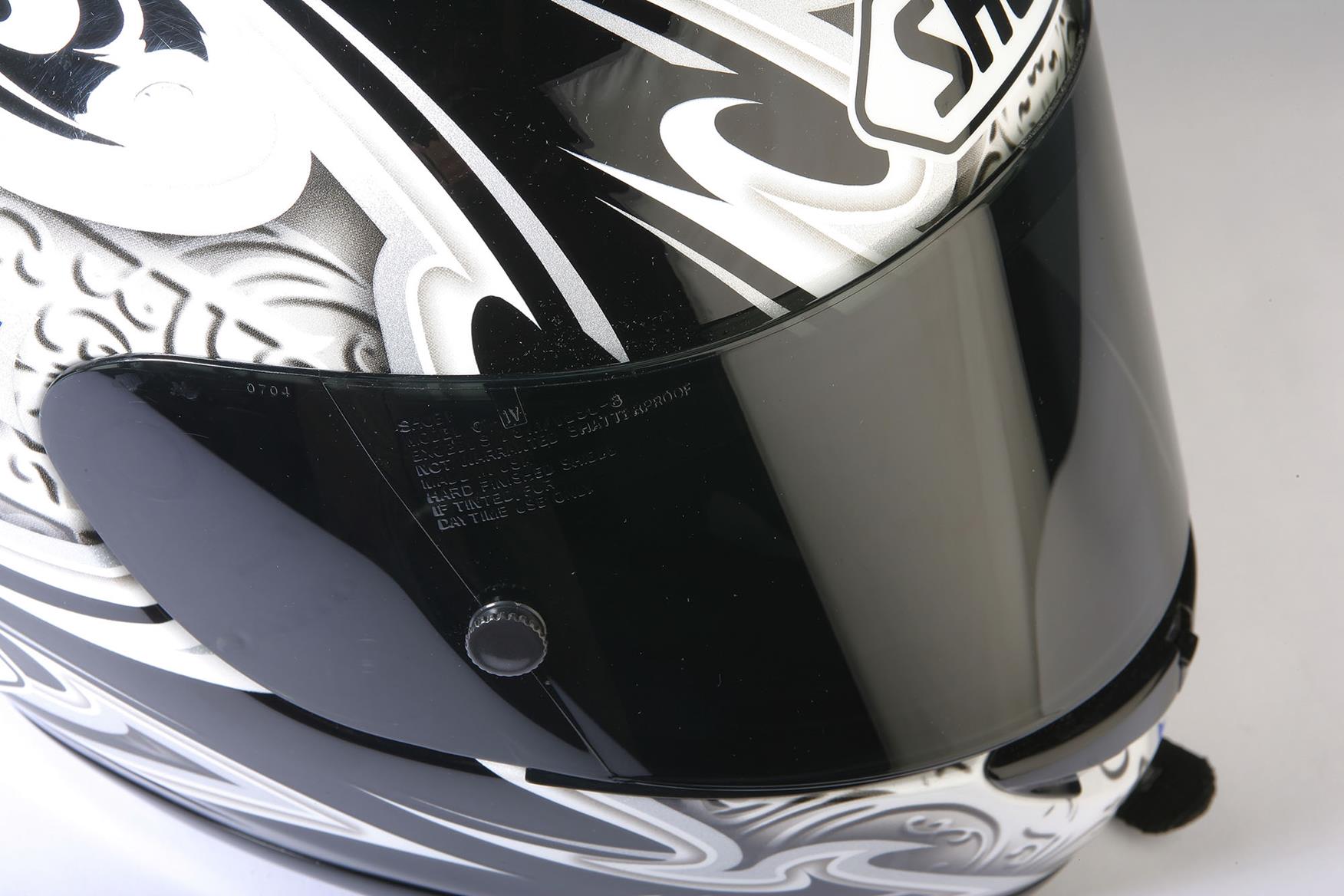 It is largely down to different police forces' and officers' discretion as to whether or not to pull over and speak to someone riding in worsening light with a dark visor. If an accident happens, investigations into the visor are often commenced by the investigating officer.
Insurance companies will also take note with the aim of potentially reducing the value of any claim, for example if the tinted visor in poor light was a contributing factor.
Police use a machine called "TintMan" which tests how much light goes through the visor.
Dark, as opposed to mildly tinted, visors will not meet the required standard
Dark, as opposed to mildly tinted, visors will not meet the required standard and you risk being charged with a Section 18 offence (Road Traffic Act 1988) and if you are riding in fading light or even in darkness with a dark visor you could risk a charge of careless or even dangerous driving risking a ban, fine and even having to retake your test.
I would suggest that if you intend to ride with a tinted visor you always take a clear one as well should the light change to avoid potential problems with the police.
This article was written by Andrew Campbell, a Solicitor at Bikelawyer Motorcycle Accident Solicitors.
Andrew is MCN Legal Expert and has authored the MCN Law column for more than 10 years.
Find your next two-wheeled companion at MCN Bikes for Sale.
Nguồn: www.motorcyclenews.com