Residents living near the Lee&Man paper manufacturing factory continue to complain about the pollution and noise caused by the factory, while the investor—Hong Kong-based Lee&Man Paper Group—insists that its factory meets environmental criteria.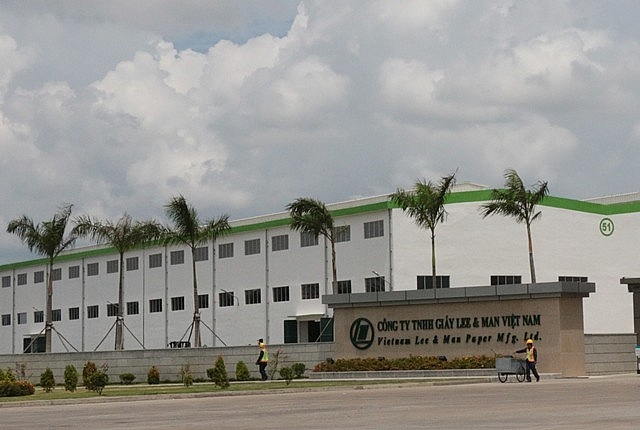 Recently, residents claimed that they smell the stink of the wastewater discharge area of the factory, affecting the water sources of households as well as suffer from noise pollution caused by the factory's operations, according to newswire Dantri.
However, responding to the residents' complaints, the representative of Lee&Man insisted that the factory is operating smoothly without polluting the environment.
Regarding the wastewater treatment system, Lee&Man affirmed that it has been connected to the authority's monitoring system and there have been no abnormal signals yet.
Along with the paper manufacturing factory, Lee&Man's pulp mill has been warned to have its investment certificate withdrawn.
The firm highlighted that it still controls the dust produced through its operations. Regarding the smell, Lee&Man stated that it is typical during the paper manufacturing process.
VIR contracted the Chau Thanh District People's Committee to clarify the incident, but the representatives refused to comment as they were either on a meeting or wanted to discuss face-to-face.
If residents' complaints are true, this is the third time that Lee&Man relapses into environmental violations.
In December 2016, the factory was allowed to begin testing the treatment plant for the first time, but it stopped the trial operation three weeks in due to heavy air, noise, and water pollution.
At the time, the investor committed to install dust-proof nets around the coal warehouse and plant trees at the unused site behind the facility to deal with the air pollution.
It had installed a sound-proof and a sound insulation wall system for its thermal power plant which was considered the reason behind the noise pollution. Besides, the unpleasant odor was found to be coming from the dry mud storage facility and mud basin at its wastewater treatment plant, thus the investor promised to install machines to solve the problem.
However, in September 2017, the residents continued to complain about air and water pollution caused by the factory.
A household said that after the investor's efforts only decreased the environmental pollution, but never actually stopped it.
Along with the paper manufacturing factory, Lee&Man's pulp mill has been warned to have its investment certificate withdrawn. However, there has yet to be an official decision to this effect.
VIR
Nguồn: english.vietnamnet.vn