VietNamNet Bridge – Visitors will have the chance to experience paintings by Dang Viet Linh at an exhibition at the Photography and Fine Art Exhibition Centre from July 13.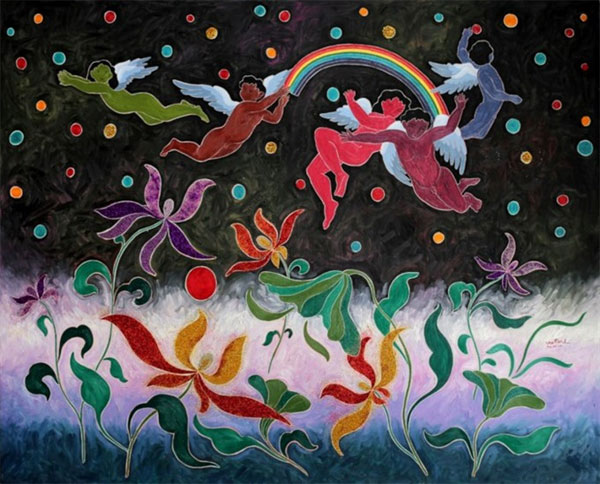 Oil-on-canvas painting entitled Huong Dem (Scent in the Night)
Entitled The Wonderland, the exhibition will showcase 30 of Linh's latest paintings. 
They include 18 gouache on do (poonah) paper and 12 oil-on-canvas. 
"I was inspired by the childhood stories in my village," said Linh. "There are not only my memories, but also dreams of the past with ordinary stories."
To Linh, shape and colour are sense and sensiblity. He uses colours to draw his memories and his desires from the fairy tales, poems and songs that his mother used to tell him every night. 
"It needs a peaceful and quiet place to cherish people who are tired of modern life," Linh said. 
Linh uses contrasting colours with golden and silver to describe a noisy summer party and highlight a shimmering landscape full of colour and imagination.
"The Wonderland paintings are poetic and colourful," said established artist Vu Bach Lien. "Going around these illustrations, we imagine we are flying to a distant land hidden deep inside the human subconscious.
From the northern province of Phu Tho, Linh is studying a Master of Arts at Ha Noi University of Industrial Fine Arts and has participated in many activities such as The Lithography Art Workshop at the Ha Noi Contemporary Art Centre, the Domino Art Fair and the Imago Mundi Art Project. 
He held a solo exhibition Mo (Dream) at the Viet Nam Fine Art Museum in 2015 and group exhibitions in Vietnam and in South Korea. 
He won first prize at The Fresco Art Awards at the VISIP Industrial Town Competition in the northern city of Hải Phòng in 2017; the consolation prize at Korea in the Eyes of Vietnamese Young Artists competition in 2015 and second prize at The Ethnic Minority in The Mountainous Region of the Northern Vietnam exhibition held by the Ministry of Culture, Sports and Tourism in 2007. 
His paintings are also part of private collections in the US, South Korea and China. 
The exhibition will open at 5.30pm on July 13 at 29 Hang Bai Street.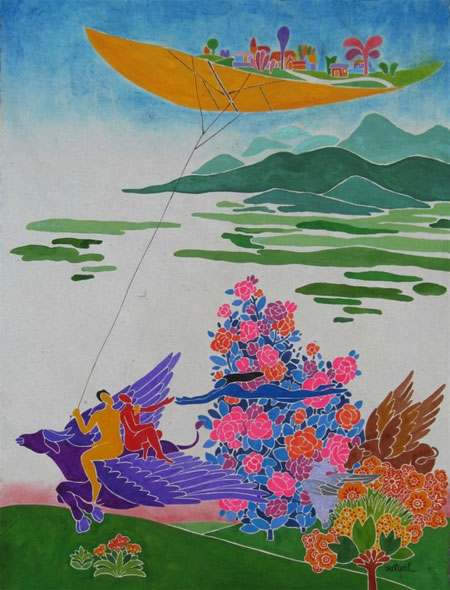 Gouache on do (poonah) paper painting entitled Tuoi Tho Cua Lang (Childhood in Village)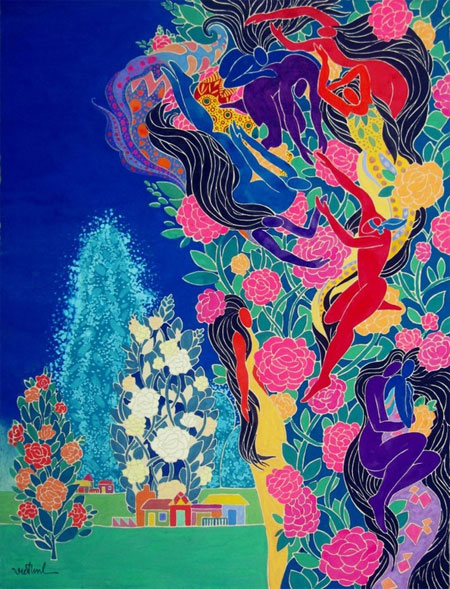 Gouache on do (poonah) paper painting entitled Bit Mat Bat De (Blind-Man's Buff).
Source: VNS
Nguồn: english.vietnamnet.vn