2018 International Conference on higher education held in HCMC
The Annual International Conference on higher education was jointly held by the Southeast Asian Ministers of Education Organization, Regional Training Center in Vietnam (SEAMEO RETRAC) and the British Columbia Council for International Education (BCCIE) for the fourth year in a row in HCMC last week.
Focusing on "Leadership and Management in Higher Education in a Globalized World: Innovations and Best Practices," the conference is a global platform for discussion, collaboration and intellectual exchange among international educational leaders, academicians and professionals in related areas of higher education.
This 2018 conference's main goal was to update the participants with trends and practices in leadership and management in higher education. Thereby, they can be better prepared to face challenges at their workplace.
The conference also covered a wide range of topics relating to innovations and best practices in higher education leadership and management. It provided academicians and professionals with unique opportunities for presenting and exchanging research-based results related to innovations and best practices in leadership and management in higher education from global higher education institutions.
Additionally, the 2018 International Conference helped develop a global network and linkages among policy makers, educators, leaders and researchers as well as professionals working in the field of international higher education for future development.
The event featured speeches and presentations by international experts including Allan Cahoon, President and Vice Chancellor of Royal Roads University; Paul Dangerfield, President of Capilano University; Elizabeth Hendrey, Provost and Vice President for Academic Affairs of Queens College; Henri-Claude de Bettignies, Senior Advisor to the Board of The HEAD Foundation; and N. Varaprasad, Principal Consultant at Singapore Education Consulting Group.
Notably, the conference was attended by a delegation of 15 Canadian educators coming to share best practices with their counterparts from the region, according to the Consulate General of Canada in HCMC.
Viet Tri-Ba Vi Bridge across Red River to open for trial run on July 31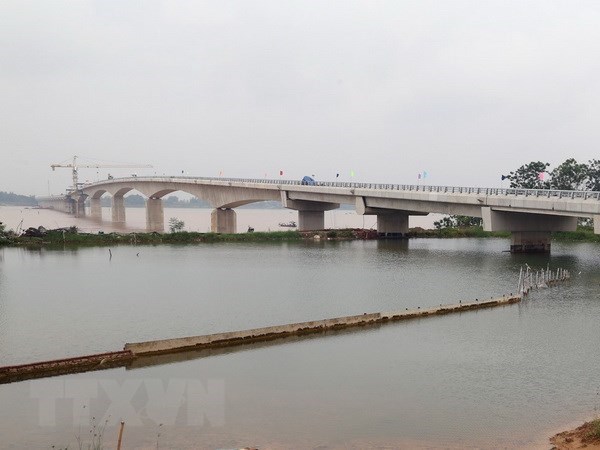 The Viet Tri-Ba Vi bridge across the Red River 
A new bridge spanning the Hong (Red) River and connecting Hanoi's Ba Vi district and Phu Tho province's Viet Tri city will be open for trial run on July 31 after two years of construction, according to its investor Phu Ha BOT Co Ltd.
Le Minh Nghia, director of the Phu Ha BOT said the Viet Tri-Ba Vi bridge will be put into commercial run on October 1. A toll station will be located at Phu Cuong commune of Ba Vi district, with the fee starting from 35,000 VND per car.
Built at total investment of 1.46 trillion VND (63.64 million USD), the Viet Tri-Ba Vi bridge is a link between National Route 32 and National Route 32C. The main bridge is 1.55 km long and the approaching roads have a combined length of 7.8km. 
The new bridge is expected to help facilitate traffic between Hanoi and the midland province of Phu Tho, thus boosting local economic development and tapping the potential for tourism and service of Phu Tho province. 
At a working session on July 15, Chairman of Phu Tho province's People's Committee Bui Minh Chau proposed changing the name of the bridge from Viet Tri-Ba Vi to Van Lang. 
Transport Minister Nguyen Van The has asked relevant agencies to consider the proposal.
Phu Tho province has great potential in manufacturing, assembling industry, construction material production, hi-tech agriculture and forestry.
There is also large room for tourism development in the province, which is home to two world cultural heritage recognised by UNESCO, which are the worshipping of Hung Kings and the traditional "xoan" singing.
Thua Thien – Hue focuses attention on One Commune-One Product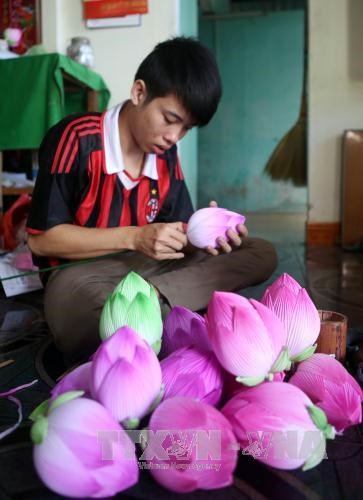 Paper flower making in Thanh Tien village in Phu My commune of Thua Thien - Hue. The village is well-known for its 300-year craft of making paper flowers.
The central province of Thua Thien – Hue has defined priorities for its One Commune – One Product (OCOP) programme during 2018-2020, which are mostly local specialties and services. 
There are six groups of products being targeted, which are food, beverages, herbal medicines, fabric and garment making, souvenir-decoration-interior, and rural tourism and sale services, in line with the national OCOP programme. 
Vice Chairman of the provincial People's Committee Nguyen Van Phuong said the OCOP programme responds to both the needs of developing tourism and building new style rural areas in combination with restructuring the agricultural sector.  
The provincial agricultural department is assigned to coordinate with local administrations to make a list of key and advantageous products of each locality along with assessment of the technological level, capital and labour related to each product, towards building the OCOP project to be carried out in the province during 2018-2020.  
In 2015-2017, Thua Thien – Hue spent more than 42 billion VND (over 1.82 million USD) on a similar programme called One Village – One Craft – One Product. It will continue to implement this scheme in 2018 and beyond. 
The OCOP programme is expected to create more jobs for the rural workforce, who are usually idle outside of the two main cultivation crops of Winter-Spring and Summer-Autumn. 
The Ministry of Agriculture and Rural Development (MARD) launched the One Commune, One Product (OCOP) programme worth nearly 45 trillion VND (about 2 billion USD) in May this year. 
According to the Central Coordination Office on New Rural Development, OCOP is an economic development programme in rural areas focusing on increasing internal power and values, contributing to the implementation of the National Target Programme on New Rural Development for 2016-2020. 
The programme aims to produce and offer quality products and services that are competitive at home and abroad, with priority given to cooperatives and small and medium-sized enterprises (SMEs). It is also expected to raise local income and meet national criteria on new-style rural areas for 2016-2020.
Ca Mau tightens control of fishing fleet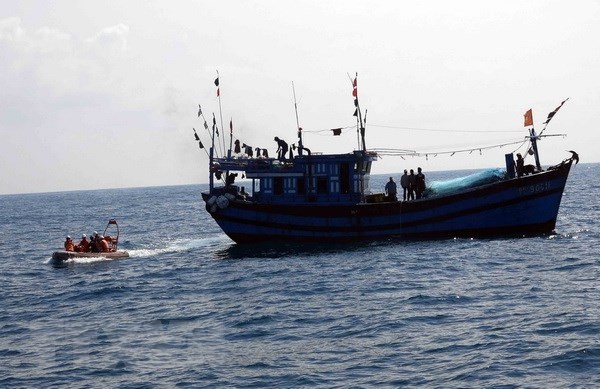 The southernmost province of Ca Mau is tightening control of local fishing vessels operating at sea in line with national efforts to fight illegal, unreported and uncontrolled (IUU) fishing.
Chairman of the provincial People's Committee Nguyen Tien Hai said along with bolstering educational campaigns for fishermen on relevant laws and regulations, authorised agencies have applied strict sanctions against owners of fishing ships violating foreign waters.
He said local agencies are working to ensure that every worker in the fishing industry from fisherman to small trader, every local official and organisations involved in fisheries know about the EC's yellow card warning Vietnam about IUU.
Fishing vessel owners will have their operating licence withdrawn and will be refused new licence if any of their vessels is found to be arrested overseas or detected to have violated foreign waters though the satellite-based monitoring system.
The chairman has instructed relevant agencies and local administrations to remove Movimar satellite geo-positioning devices from fishing ships under 24m in length to transfer to vessels of 24m and longer.
He stressed that authorized agencies will take strong measures against fishing ships and individuals who fail to turn on Movimar devices around the clock when going fishing offshore.
Ca Mau will promptly upgrade the GPS-integrated VX-1700 satellite communication machines which have been installed on ships and port management units to ensure automatic reports on ship arrivals.
On October 23, 2017, the EC issued a "yellow card" warning to Vietnam, after the country failed to demonstrate sufficient progress in the fight against IUU fishing.
A working delegation from the EC's General Directorate for Maritime Affairs and Fisheries visited Vietnam from May 16-24 to inspect the country's implementation of the EC's nine recommendations related to the fight against IUU fishing.
The nine recommendations included revisions to the legal framework to ensure compliance with international and regional rules, applicable to the conservation and management of fisheries resources; ensuring the effective implementation and enforcement of the country's revised laws; and strengthening the effective implementation of international rules and management measures.
The EC's delegation said the Vietnamese localities' efforts against the IUU fishing remained particularly weak in some specific areas. 
 The EC inspectors will return to Vietnam in January 2019 to review the country's progress in addressing its "yellow card" warning.
Over 60,000 HCM City students join "Green Summer" campaign
At the launch ceremony 
The HCM City chapter of the Vietnam Youth Federation on July 15 held a ceremony to launch the 25th "Green Summer" voluntary campaign, attracting more than 60,000 students to social activities.
Speaking at the ceremony, Politburo member and Secretary of the municipal Party Committee Nguyen Thien Nhan highly valued the outcomes reaped from the previous drives which, he said, manifested youth's dynamism, creativity and voluntary spirit. The official stressed that the annual campaign serves an environment for young people to demonstrate skills and devotion, that is why the youth should bring into full play their role in voluntary activities for the benefit of the community and to create a spill-out effect among the people in general.
According to Ngo Minh Hai, Deputy Secretary of the municipal Youth Union Committee and head of the 2018 campaign, this year's drive aims to mobilize youth to building at least 50 houses for the poor, repair electricity systems for 500 households, improve skills of foreign languages and IT for at least 20,000 children, upgrade 40km of roads, besides others.
The campaign will last from July 15 – August 12, focusing in the city's 5 suburban districts, border and island localities in the central and Central Highlands regions, as well as in Laos. The voluntary activities will focus on strengthening civilized way of life, protecting the environment, climate change resilience, new-style rural area building, and social welfares. Particularly, participants will concentrating on IT training, agriculture consultancy, agriculture science and technology transfer, teaching the Vietnamese language to children, and sport and cultural exchanges with villagers in Laos.
Many participants have expressed their pride for joining the annual drive for the first time, and pledged to do their best to help the community. They also described this drive as a good chance for them to bring their knowledge into the real life, to the benefit of locals.
VN Summer Camp: Young expats learn history in Dong Loc T-junction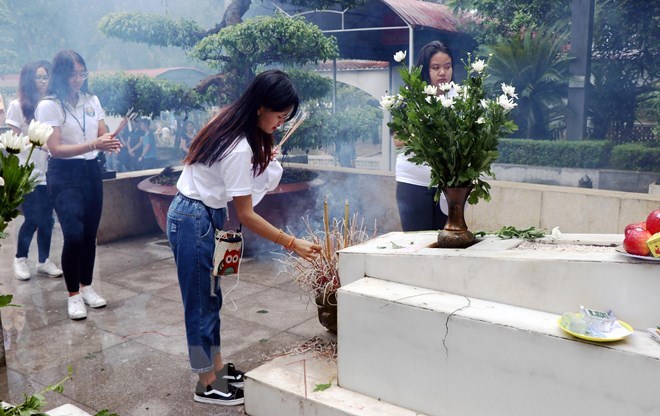 A young overseas Vietnamese girl offers incense at the Dong Loc T-junction monument in Ha Tinh on July 15. 
Young Vietnamese overseas taking part in the Vietnam Summer Camp 2018 offered incense and flowers at the Dong Loc T-junction monument in the central province of Ha Tinh on July 15.
Some 120 young Vietnamese from 30 countries and territories saw with their own eyes the relics from the anti-US war and listened to stories about the sacrifice of ten young unmarried girls who were volunteers helping with logistics at the T-junction during the war.
The youths, aged 16 – 24, has been on a tour across Vietnam to learn about their roots. They are provided with opportunity to visit popular tourist destinations and historical relics, meet with local young people and learn Vietnamese language and traditional customs.
This year's camp which lasts until July 25 features a big programme of activities across 11 localities from the North to the South.
After Ha Tinh, the young expats will take a trip to Phong Nha – Ke Bang National Park and engage in a charitable event in the central province of Quang Nam. They are scheduled to finish their journey in Buon Ma Thuot, the capital city of Dak Lak in the Central Highlands on July 23.
Yesterday, they visited the central province of Nghe An where they paid tribute to late President Ho Chi Minh and presented gifts to Heroic Vietnamese Mothers, war invalids and Agent Orange/dioxin victims.
Initiated in 2004, the Vietnam Summer Camp has attracted about 2,000 young people from various countries and territories.  Each camp had a specific theme and events designed to bring different experiences and lessons on the Vietnamese culture and history for the participants, who previously had little experience in the country. 
Underwater medicine, hyperbaric oxygen association set up
The National Association of Underwater Medicine and Hyperbaric Oxygen was established by the Vietnam National Institute of Maritime Medicine and Maritime Health Association during a congress on July 13 – 14.
Held in the northern city of Hai Phong, the first congress of the National Association of Underwater Medicine and Hyperbaric Oxygen elected Prof. Dr. Nguyen Truong Son as Chairman while 29 others were selected for the association's executive committee.
According to newly-elected chairman Son, Vietnam is a coastal nation with territorial waters tripling the land area and a large maritime workforce. However, health care services for underwater diseases and diving emergencies face many challenges due to a lack of specialized medical workers, tools and facilities, he said.
Meanwhile, hyperbaric medicine has been increasingly applied for treatment and emergency care of serious diseases at hospitals and medical facilities across the country. The new approach is applicable to treatment for victims in drowning accidents or bitten or stung by marine animals.
However, knowledge on this field remained limited so the treatment effectiveness is below expectation, the expert noted.
At the congress, delegates discussed and exchanged ideas about 15 studies in underwater medicine and hyperbaric oxygen and the use of hyperbaric medicine in health care service delivery.
Hung Yen police deal heavy blows on drug-related crimes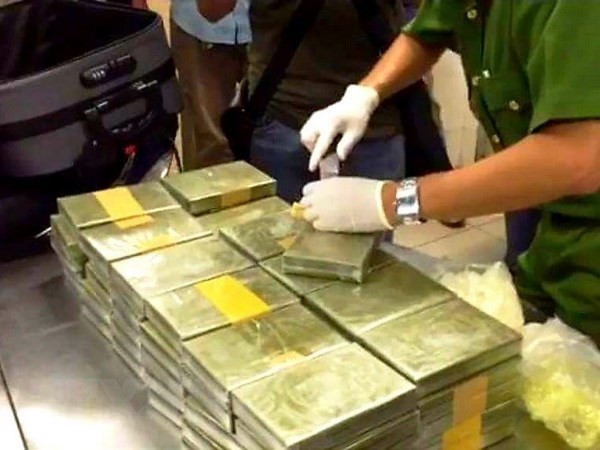 So far this year, the police in the northern province of Hung Yen have detected and dealt with nearly 160 cases related to drug, arresting almost 250 criminals in the province's localilties.
Besides, they have also seized thousands of grams of heroin, over 2,000 grams of drugs of various kinds, more than 100 poppy plants, 100 ml of methamphetamine and nearly 30 grams of ketamine. Legal procedures have been launched for up to 128 cases with 155 accused, while 19 cases with 63 people have got administrative punishments and 66 addicts been sent to detoxification centers.
The force have also successfully busted two large cases of illegally trading and smuggling drugs from Son La province, with the involvement of many women. The cases are those of smuggling five cakes of heroin weighing nearly 1.8 kg and trading 28 cakes of heroin totaling 9.9 grams, with the latter being the largest so far in the province.
Authorities have pointed out that the root causes of the hike in drug-related cases are the poor sense for law of local, the temptation by the huge profit and the low effectiveness of the law popularization.
They also have concluded that the crime is also causing other social evils like theft, robbery and murder, leading to the poor security and order in the locality. Hung Yen police are striving to take strong measures to gradually erase the crime from the province.
Tien Giang builds budget apartments for industrial park workers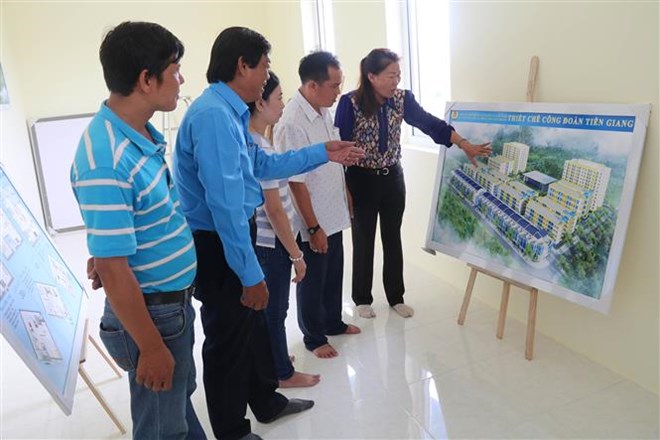 Planning of the residential complex for workers in Tien Giang"s industrial parks is on display. 
More than 1,000 affordable apartments will be built for industrial park workers at a complex in the Mekong Delta province of Tien Giang, according to Chairman of the provincial Federation of Labour Truong Van Hien.
The residential complex for workers in local industrial parks will be constructed at an estimated cost of 677 billion VND (29.8 million USD). Tien Giang is among the first three provinces in the country alongside Ha Nam and Quang Nam allowed by the government to build such complex, Hien said.
Each project will include, besides low-cost residential buildings, a building for trade unions of industrial parks, a nursery school, a supermarket, and a park and recreation area, to serve the workers and their families, he added.
In Tien Giang, the 3-hectare complex will be located near My Tho Industrial Park and Trung An Industrial Cluster, comprising 12 five-storey and two 12-storey buildings, and row houses. It will provide over 1,000 budget apartments, 30 sqm or 45 sqm in size each, able to accommodate about 5,000 workers.
These apartments can be rented or purchased at low prices. 
The project is expected to break ground in August 2018 and to be put into use in 2020.
Quang Nam wants more tourism services around My Son Sanctuary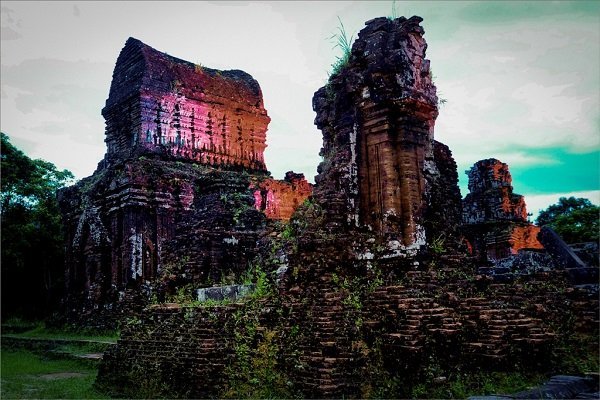 A corner of My Son Sanctuary in the south-central coastal province of Quang Nam 
The south-central coastal province of Quang Nam is calling on companies at home and abroad to develop high-quality tourism services around My Son Sanctuary.
Ho Tan Cuong, deputy director of the provincial Department of Culture, Sports and Tourism, said his agency and the management board of My Son Cultural Heritage are planning to call for investors to set up lodging, dining and entertainment services around the World Heritage site.
Cuong explained that the move aims to present more high-quality services so that tourists will spend more money.
"In addition to the preservation and protection of the site, we also want to have links with nearby regions. This will create (favorable) conditions for tourists to stay overnight at My Son and study our heritage site more thoroughly," he remarked.
He admitted that the number of tourists to My Son has been modest, as there is a shortage in tourism services and the road infrastructure is inadequate.
Representatives of some tourism companies in neighboring Danang City told the Daily that their tours to Quang Nam include both My Son Sanctuary and Hoi An City.
While the Tra Hue Vegetable Village in Hoi An offers services that allow tourists to stay overnight and get hands-on experience of farming, similar services in My Son are quite basic.
Tran Luc, deputy director of the Danang branch of Saigontourist, said the company serves an increasingly large number of Western tourists to My Son. Many tourists have expressed interest in staying overnight around My Son so that they can study the sanctuary more thoroughly. However, they were unable to do so due to the lack of high-quality services.
Data from the local tourism watchdog shows that the number of tourists to My Son has not increased in recent years. The deputy head, Cuong, said the destination is expected to welcome 350,000 tourist arrivals this year, which is equal to that of 2017 and is still an optimistic figure.
He added that more than 204,000 visitors came to the sanctuary in the first half of this year, a year-on-year rise of 12%.
The My Son Sanctuary, a complex of over 70 Hindu tower temples built by the ancient kingdom of Champa between the 4th and 13th centuries, was recognized as a World Heritage site in 1999 by the UNESCO. While restoring and embellishing the site, experts have recently discovered 275 artifacts, including the unique artifacts of the Champa Sculpture.
Hải Hòa Beach puts swimmers at risk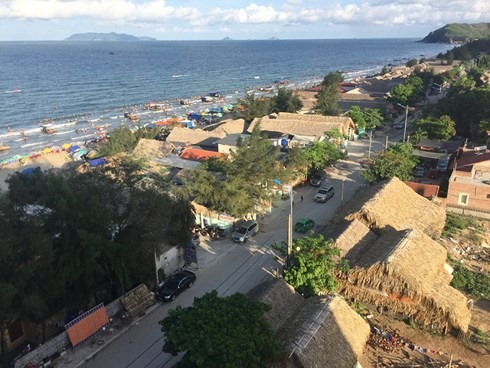 Hải Hòa Beach in Tĩnh Gia District in the central province of Thanh Hóa lacks facilities to ensure safety for swimmers and beach goers.— Photo vov.vn
Hải Hòa Beach in Tĩnh Gia District in the central province of Thanh Hóa lacks facilities to ensure safety for swimmers and beach goers.
The Voice of Việt Nam (VOV) radio reported on Friday that though thousands of visitors flock to the beach daily during the summer, the province has hardly invested in works to ensure public safety.
At the Hải Hòa Beach, there is no beach observation tower, no warning system, no boats for search and rescue activities and the area where people can swim is not marked at all.
Vice chairman of the district People's Committee Lê Thế Kỉ said a group of staff was assigned to patrol along the coast and deliver assistance to beach goers in emergency cases.
The district also asked the Hải Hòa Commune People's Committee to build beach observation towers.
"Problems remained in managing the beach and ensuring public safety there. Local authorities are seeking solutions," Kỉ said.
Colonel Lê Văn Cửu, director of the province's Fire Prevention and Prevention Department, said the department sent fire fighters to the beach for search and rescue activities after seeing risks to public safety because of insufficient safety works.
On July 11, a 25-year-old man drowned while swimming at Hải Hòa Beach. He and his four friends were swept hundreds of metres off the coast.
For the last few years, Hải Hòa has been known as a beautiful beach in Thanh Hóa Province with abundant white sands, clean blue water and smaller crowds than at other beaches in the same province.
Visitors to the beach said that they chose to spend their summer vacations at Hải Hòa beach because of its beauty, quietness and reasonable service prices. Few people said they cared about safety measures and warning systems.
Thanh Hóa Province, with about 100 km of coast, has famous beaches including Sầm Sơn, Hải Hòa, Hải Tiến and Hải Thanh. Some beaches have been open for tourism with the advantage of natural beauty but also the disadvantage of poor infrastructure and little investment. 
Ninh Thuận to grow more of new, high-quality grape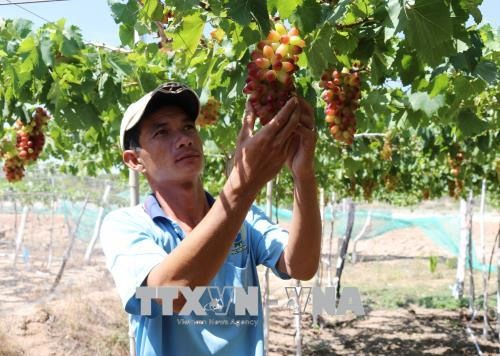 A farmer tends his grape farm in Ninh Thuận Province's Ninh Hải District. 
The south central province of Ninh Thuận, the country's largest grape producer, plans to expand cultivation of NH 01-152, its new grape variety, because of its excellent quality and other outstanding characters.    
The variety, created by the Nha Hố Research Institute for Cotton and Agriculture Development, has been grown on a pilot basis but is in great demand already.
Grown for eating fresh, it is crunchy and semi-sweet with firm flesh, a slight fragrance and just one or two seeds.
Phan Công Kiên, deputy head of the research institute, said the institute is working with local agencies to transfer intensive farming techniques to farmers for growing the variety, which would gradually replace certain degraded varieties in the province.
In the third quarter of this year the institute and relevant authorities would seek approval from the Ministry of Agriculture and Rural Development to grow the grape commercially, and subsequently introduce it to more farmers, he said.
It is now grown on nearly 6ha in major grape growing areas like Ninh Hải, Ninh Phước and Ninh Sơn districts, Phan Rang – Tháp Chàm City and the neighbouring province of Bình Thuận. 
Nguyễn Khắc Phòng, who grows the grape on his 2,000sq.m farm to Vietnamese good agricultural practice (VietGAP) standards in Ninh Hải District's Vĩnh Hải Commune, said he recently harvested the first crop, and it yielded one tonne per 1,000sq.m, fetching him an income of nearly VNĐ200 million (US$8,800).
The cost of growing NH 01-152 is VNĐ30 – 40 million ($1,300 -1,700) per 1,000 square metre, the same as other grape varieties, but the income is higher, he said.
The variety is suitable for growing in the province's hot and dry weather and soil conditions and is resistant to diseases.
It yields two crops a year.
Traders pay VNĐ100,000 – 200,000 per kilogramme of the grape.
The province People's Committee has instructed relevant agencies to co-operate with the research institute to grow the new variety.
The province plans to create a large-scale field for planting the grape in Vĩnh Hải Commune this year, and this is also expected to be a tourist attraction.
The south-central province has more than 1,300ha of land under grapes, mostly the cardinal and NH01-48 varieties.
Hải Phòng to become green, smart city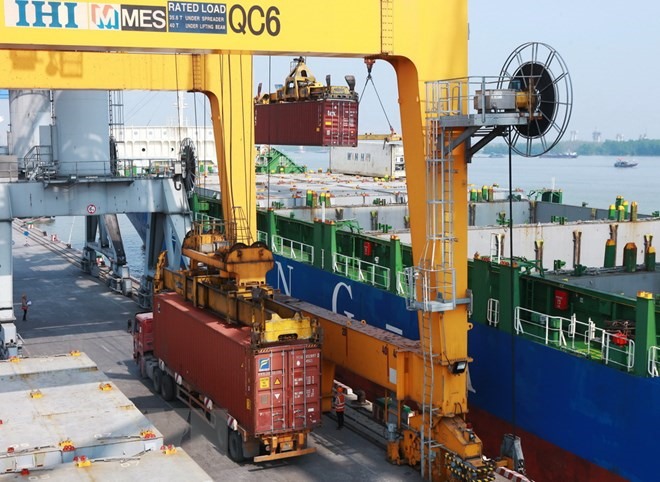 Tân Vũ Port in Hải Phòng City. 
Hải Phòng is projected to become a green city and a major maritime service hub by 2025.
The vision is part of the general plan for the northern port city by 2025 towards 2030 which has been approved by Prime Minister Nguyễn Xuân Phúc.
According to the plan, the northern port city will be developed into a hub for the key northern economic region and a green smart city with unique architecture and synchronized socio-economic infrastructure.
It is also expected to become a key point connecting transportation of the country and the gate to the sea of northern localities and the Việt Nam-China economic corridor.
The city needs to focus on industrialisation and modernisation based on advanced science and technology and human resources while maintaining a balance between economic development and environmental protection. Key industrial sectors with high added value such as green and high-tech industry, maritime industry and electronic sector should be developed, the PM said.
The city should develop its economy along with defence and security protection while improving the quality of life for citizens.
Gross Regional Domestic Product of the city is expected to account for 19.6 per cent of the GDP of the key northern economic region and 4.86 per cent of nationwide GDP by 2020.
Annual Gross Regional Domestic Product per person is set to reach VNĐ86.3 million (US$3,750) by 2020.
Services including sea transport, logistics, airlines, banking-finance, commerce and tourism are set to be developed.
A logistics centre for the key northern economic region will be located at Nam Đình Vũ Industrial Zone.
Tourism is set to become a spearhead economic sector with high-quality, professional and environmentally-friendly services. Cát Bà, Đồ Sơn beaches are planned to be developed into nationwide and world-class tourism spots.
Air quality safe at Yazaki: test results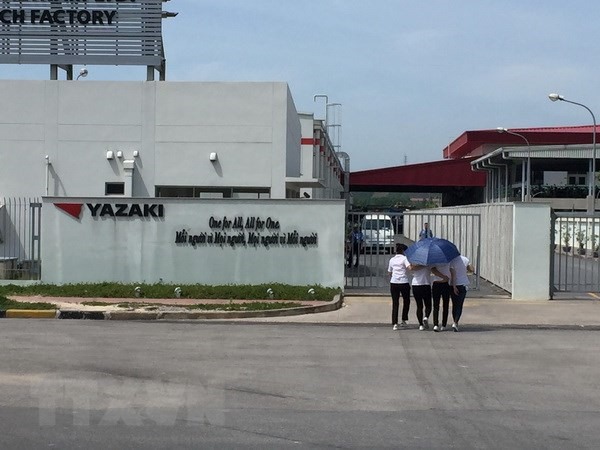 Workers in front of Japanese-invested Yazaki Co, Ltd in northern Quảng Ninh Province's Đông Mai Industrial Zone. 
The air quality measured at the warehouse of Japanese-invested Yazaki Co, Ltd in northern Quảng Ninh Province, where nearly 100 workers became disoriented and lost consciousness last Friday, has been declared safe, the provincial inspection team has announced.
At a working meeting with representatives of Yazaki Co, Ltd in Đông Mai Industrial Zone on July 12, the inspection team said it had conducted quick tests on the air quality at four different locations around the warehouse. 
Results showed that the air monitoring index was safe. 
Previously, the inspection team had conducted air quality tests on July 7, 10 and 11. The monitoring air index was within the allowable limits of the national regulations for a safe working environment.
The inspection team said that the company had taken measures to improve the working environment for the workers of the company. Ten more fans and three steam fans had been installed in the warehouse, raising the total number of fans to 49.
The company had opened seven vented doors to bring cooler air from the factory to the warehouse.
At about 8am on July 6, nearly 100 people were knocked unconscious after beginning work at Yazaki Co, Ltd in Đông Mai Industrial Zone in Quảng Yên Town. As many as 70 workers were hospitalised for treatment, and the rest were immediately evacuated from the workplace.
The provincial Department of Health invited doctors from Hà Nội's Bạch Mai Hospital to take air samples for tests to find out the cause of the incident.
Test results from the Việt Nam-Sweden Hospital showed that the health indices of these workers were normal and did not show the presence of formaldehyde.
Initial evaluation by specialists showed that the amount of formaldehyde gas at Yazaki Co, Ltd on the day of the incident was between 4-5 mg per cubic metre of air, four to five times higher than the permitted level. The formaldehyde levels were back to normal on the following days.
The provincial People's Committee directed the departments and authorities of Quảng Yên Town to implement urgent measures to ensure a safe working environment for the workers of the company. 
Quang Ngai takes action on 1,500 tonnes of garbage left untreated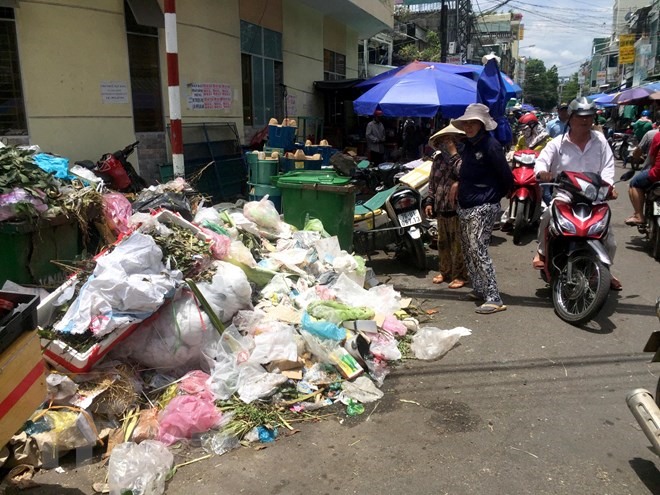 Rubbish has been piling up near Lê Trung Đình Market in Quảng Ngãi City.
The People's Committee of central Quảng Ngãi Province has urged Quảng Ngãi City authorities to take measures to quickly handle 1,500 tonnes of garbage left in the inner city over the past six days.
The request was made at an urgent meeting between the committee and relevant authorities yesterday. Trash was seen piling up after residents living near Nghĩa Kỳ landfill in Nghĩa Kỳ Commune blocked garbage trucks from entering the site since July 6.
Nguyễn Tăng Bính, deputy chairman of the committee, said that the garbage would be sent to Đồng Nà landfill in Tịnh Thiện Commune, ten kilometres from the central city, instead of the landfills in Đức Phổ and Bình Sơn districts as planned.
Bính said sending garbage to the two districts could easily cause more problems as they would not be able to handle the large amount, leading to protests by local residents over possible pollution.
He urged the city's People's Committee to promptly collect garbage piling up so as to minimise pollution and possible effects on residents.
Bính said he hoped people living near Đồng Nà landfill would share their difficulties with the province, and urged people to classify garbage at home to reduce pollution from domestic rubbish.
The provincial committee would report the situation to the Ministry of Natural Resources and Environment to ask for permission to re-open Đồng Na landfill. It would also develop plans to deal with the garbage that has been left in the city over the last several days.
Bính affirmed that moving the refuse was a temporary solution. Nghĩa Kỳ landfill in Nghĩa Kỳ Commune was responsible for the storage and treatment of rubbish in Quảng Ngãi City and surrounding districts of Tư Nghĩa, Sơn Tịnh and Nghĩa Hành. 
The province would hold talks with residents to solve all their complaints about the pollution caused by the landfill. In terms of waste treatment, the province would ask local authorities to publicise the permitted distance between the dumping site and residential areas. The province would not approve any project likely to cause environmental pollution in Nghĩa Kỳ Commune.
In addition, the province required the North Investment and Development Construction JSC to strictly follow the construction progress of a waste treatment plant as planned. The company would have its investment licence revoked if it failed to complete the construction of the plant before September 30.
At the meeting, vice chairwoman of Tư Nghĩa District's People's Committee Nguyễn Thị Phương Lan said that residents living near Nghĩa Kỳ landfill had suffered horrible odours for years and had reported pollution to local authorities many times, but witnessed no improvement.
Phạm Tấn Hoàng, chairman of the Quảng Ngãi City"s People's Committee, said that about 250 tonnes of garbage was discharged each day. In the meantime, Đồng Na landfill could only handle that amount of garbage for the next 20 days.
Authorised agencies need to work together to come up with long-term solutions for refuse in the city, he added. 
On June 10, talks were held between provincial authorities and local residents to address pollution at Nghĩa Kỳ landfill after local people blocked garbage trucks from entering the dumping site. However, local people were not satisfied with the temporary solutions offered by the province. 
Nguồn: english.vietnamnet.vn