The 500 developed 18bhp from its 499cc engine, while the 595 upped that to 27bhp with a 595cc motor
The 595 had lowered suspension by an inch or two, plus bigger Pirelli tyres
The seats were more comfortable than they appear, apparently, while the steering was light and precise
The 500 was the cheapest new car in Britain in 1966 at £410 (around £7260 today)
A year after the Nuova Cinquecento arrived, Abarth took one and doubled its horsepower. It lapped Monza for seven days and seven nights at an average of 67mph…
…and Fiat was so impressed that it ordered 100 examples to be sold by its Italian dealers
Abarth launched the 500-based 595 in 1963, with a bigger (595cc) engine. This was followed by the more powerful 695; the Assetto Corsa was a racing version
"The 595 corners completely flat with all wheels planted firmly on the ground"
"In terms of acceleration, a startling 20sec is pared off the 0-50mph time and the 595 is appreciably quicker than a Mini away from rest."
Close
The "reborn" 500 has been a huge success for Fiat, so much so that it is now aligning its whole brand around it. The car"s retro design still looks fresh and it remains as popular as it was when it was launched 11 years ago.
A pleasant byproduct of the city car"s success for enthusiasts has been the growth of the Abarth performance brand, which was properly relaunched in 2007. 
Abarth has the 595 and 695 hot hatches — ramped-up versions of the 500. These produce between 143bhp and 178bhp, which doesn"t exactly sound mind-blowing today, even if the 500 produces just 69bhp in its cheapest form.
But it does when you compare it with the original Fiat 500 Abarth of 1958, though. Arriving a year after the Nuova Cinquecento, this doubled the 499cc engine"s power output from a now scarcely believable 13bhp to 26bhp, courtesy of a little tuning.
To advertise its brand, Abarth ran the car around the Monza circuit for seven days and seven nights at an average speed of 67mph. Fiat was so impressed by this feat that it commissioned 100 examples to be sold at its Italian dealerships.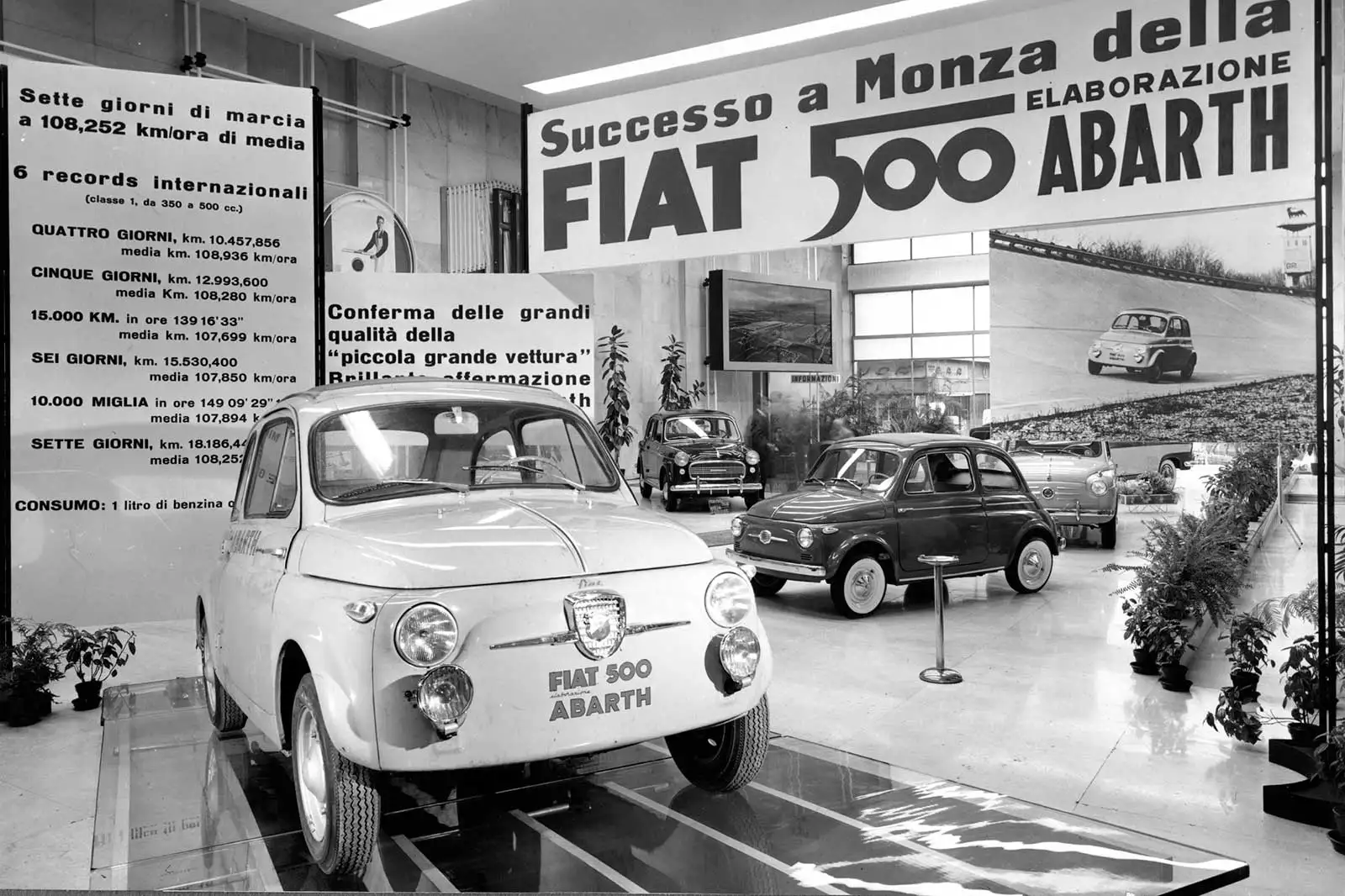 Abarth"s 500s experienced great success in racing, tightening the tuner"s relationship with Fiat to the extent that a proper production model, the Abarth 595, was launched in 1963.
The car arrived in the UK in 1966, coinciding with Fiat updating the 500 (known as "F" spec, it gained an extra 3bhp and was distinguishable by its bumpers, lights and front-hinged doors), and so Autocar drove both cars to see what was what.
The 500 had a rear-mounted, air-cooled, two-cylinder 499cc engine driving its rear wheels. It eked out 18bhp at 4600rpm and 22lb ft at 3000rpm. It had a four-speed manual gearbox, all-round drum brakes and independent suspension at both ends.
Abarth"s creation upgraded the engine with bigger-bore cylinders to 594cc. A special camshaft, new exhaust system, Solex carburettor, Abarth air filter and deep alloy sump pushed power up to 27bhp at 5000rpm and 33lb ft at 3500rpm.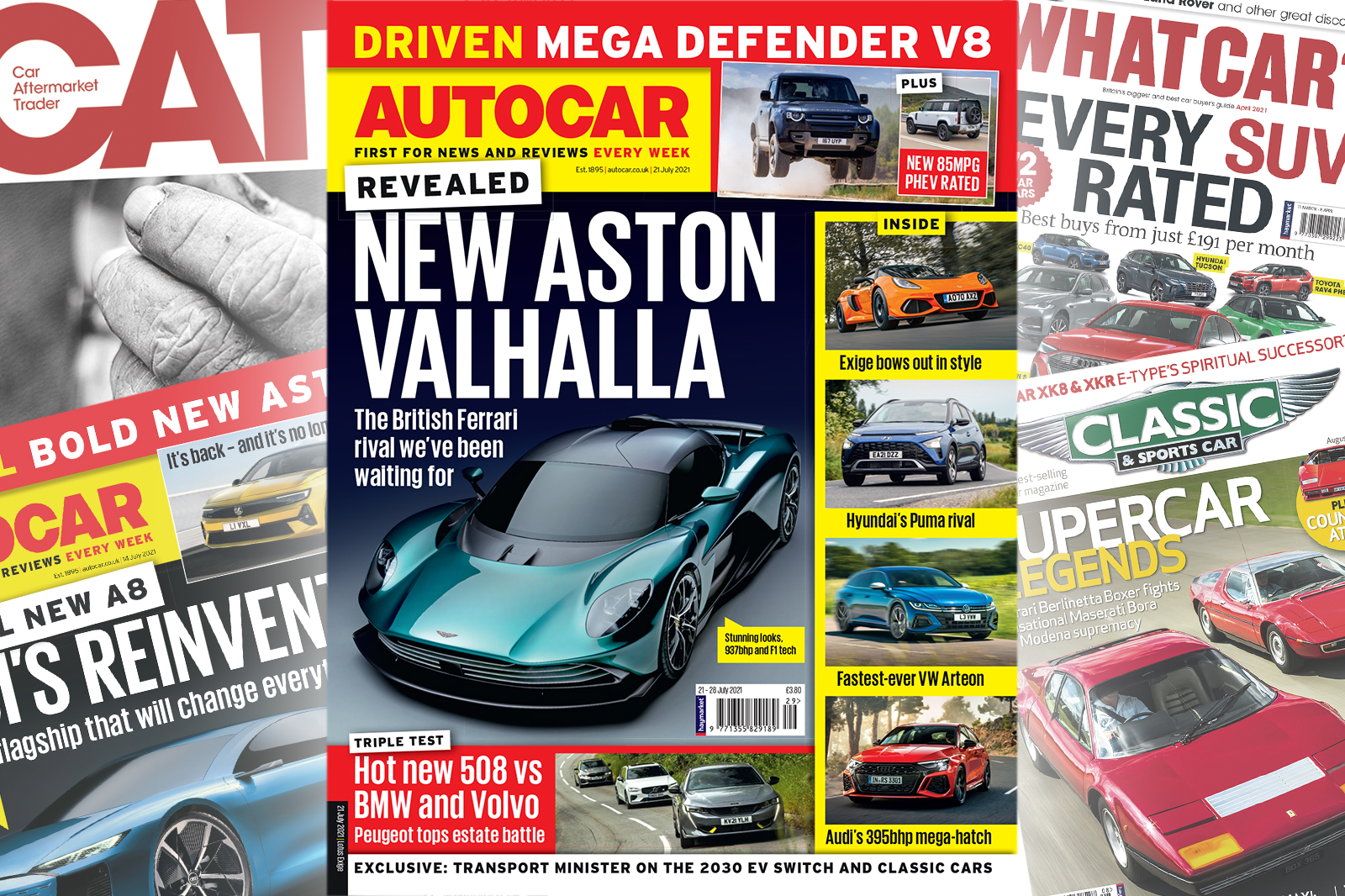 The 500 was the cheapest car you could buy in Britain in 1966 at £410 (equivalent to around £7260 today), yet it was still "very fully equipped" and "provided the kind of motoring that makes a lot of sense in our congested cities".
As for the 595, you could have your 500 converted to its spec using Abarth factory parts for £134 (about £2390 today), or you could get the real deal, with lowered suspension, a dual exhaust, a leather-covered steering wheel, special Jaeger instruments and full scorpion badging, for £562 (around £9955 now). That"s in contrast to today"s 595, which costs between £15,515 and £22,865, justified by the modern 500"s much more upmarket positioning.
Back to 1966, when we first took the 500 out and soon found it to be "an ideal machine for London commuting, with enough performance for the traffic flow and such compact dimension that often advantage could be taken to slip through gaps that only a motorcycle otherwise might use". In mixed testing, our test car achieved impressive fuel economy of 42.8mpg.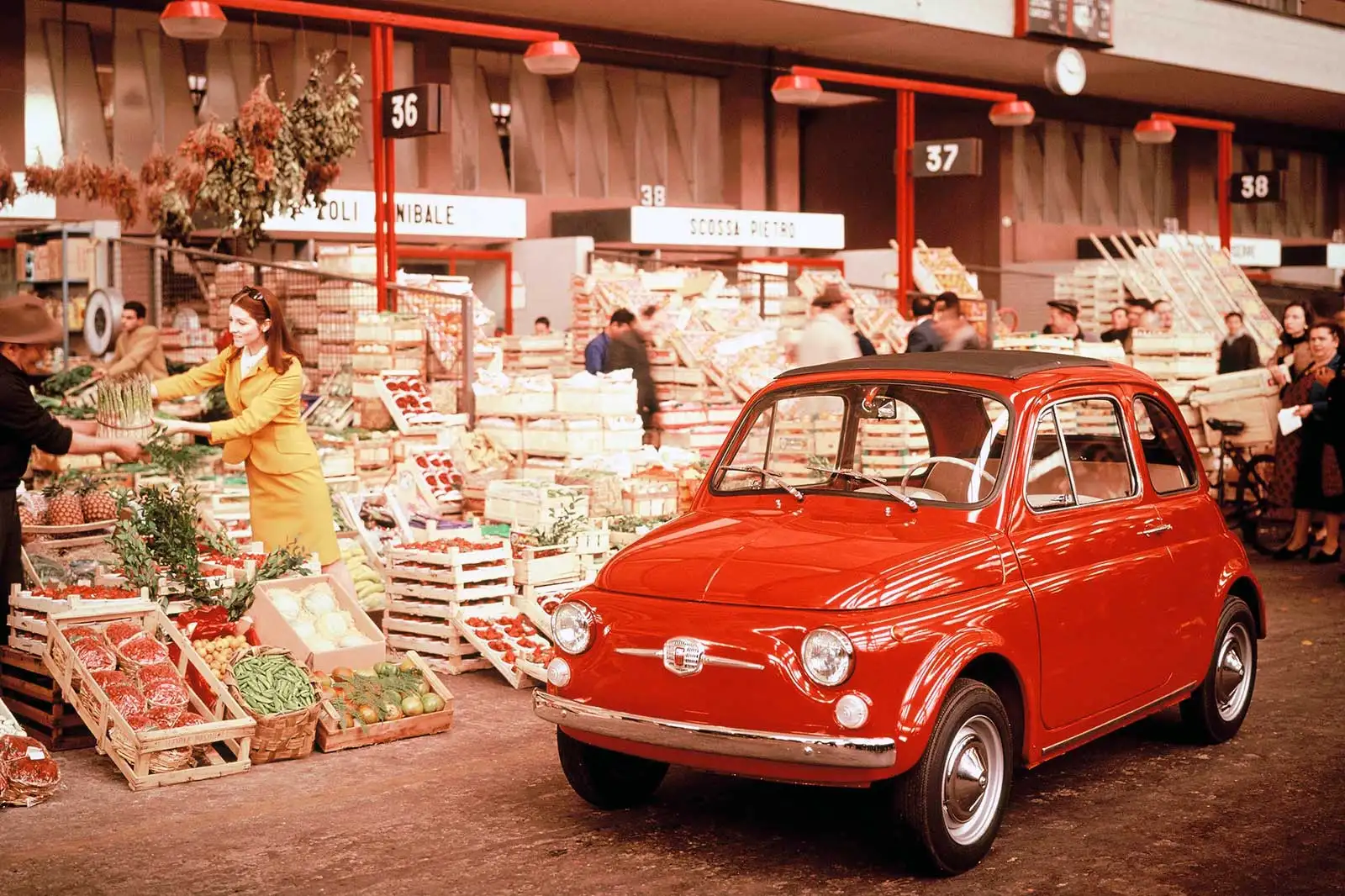 That said, it was "far from suitable" for a long journey, with "little overtaking power above 45mph". At least it was some consolation that "come what may, we could not be stopped for exceeding the 70mph limit".
It wasn"t a great idea to squeeze anyone onto the 500"s rear bench seat, either, because if you did so the 520kg car"s "performance suffers considerably". 
Shifting gear was a fun affair. The "box didn"t have a synchromesh, but rather a dog box, meaning the faster you change, the better. Indeed, "changing up can be very fast by snatching the stout lever straight through from one ratio to the next", we said, with the car "leaping forwards eagerly each time a higher gear engages, but with a slight crunch". We found that it was often better to simply change without using the clutch.
The brakes, which were drums all round, required more force than expected, although they showed no signs of fade.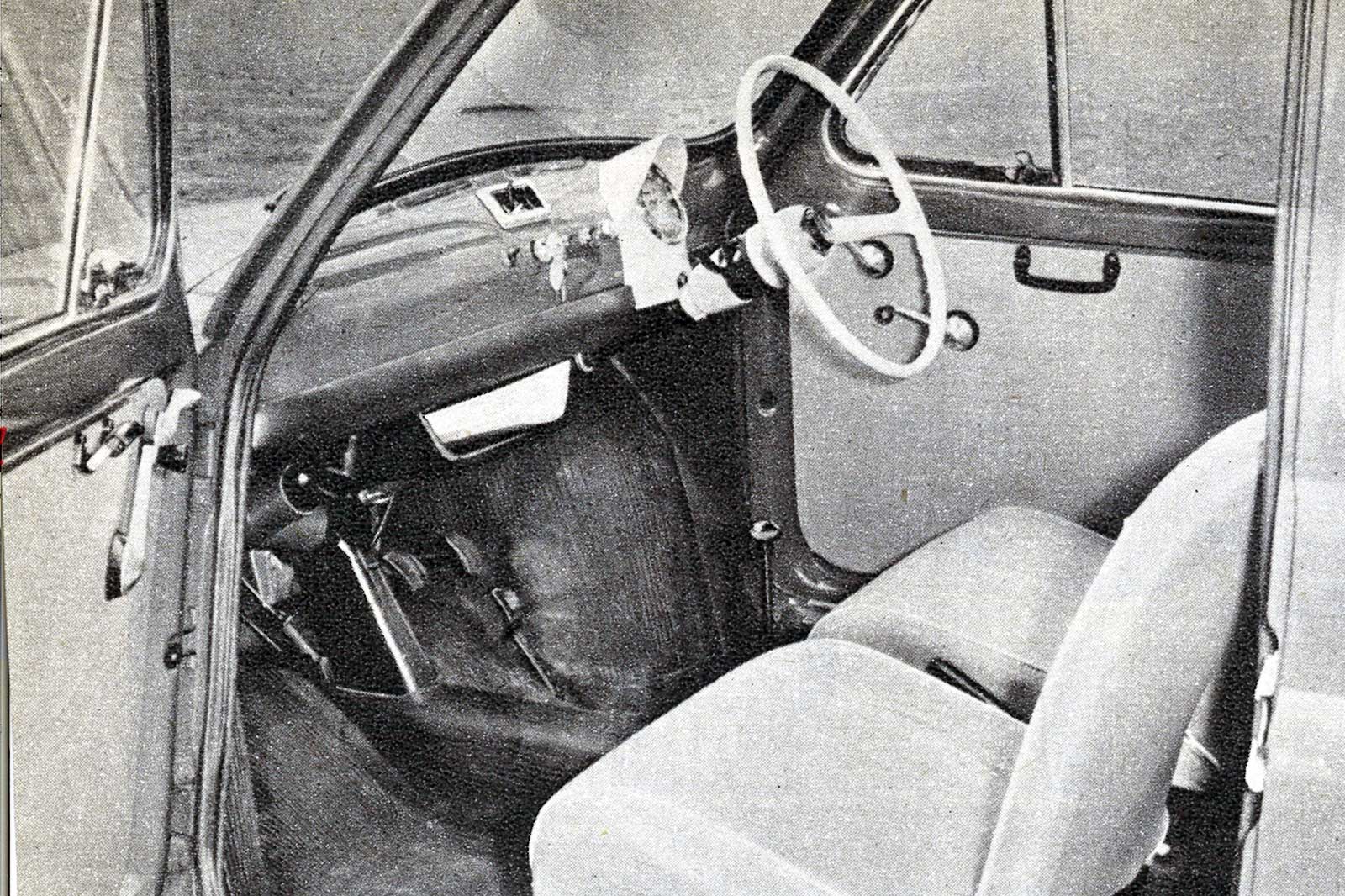 "Roadholding is well within the bounds of the performance available," we continued. "At the limit, with only the driver on board, the tail flicks out, juddering sideways as the rear weight bias makes itself felt, but with two up, there"s a much stronger tendency towards understeer. In the wet, one needs to be more cautious and careful never to brake hard in anything but a straight line, if it can be avoided."
The ride, as you can imagine from a wheelbase of just six feet, wasn"t amazing, with the 500 "pitched about by bumps and troughs in the road" and showing "violent bottoming of the springs" over pavé. At least the seats were comfortable, even if they didn"t look it.
The steering, meanwhile, was "light and precise, with no kickback, and responds quickly."
So, how much more impressive was the 595?
"In terms of acceleration, a startling 20sec is pared off the 0-50mph time and the Abarth is appreciably quicker than a Mini away from rest," we said.
"Top speed is improved over to 75mph and the little engine runs happily like a sewing machine at 70mph. One of the small but effective modifications is an extension to the oil pump pick-up pipe, which draws its supply from the bottom of the deep finned sump where temperatures are lower.
"The tiny, padded leather steering wheel matches the special Jaeger instrument binnacle and makes the steering feel even more direct.
"Suspension modifications lower the car by a couple of inches and give the back wheels slight negative camber unladen. The result is a considerable improvement in roadholding, and any tendency there might have been before for skittishness when cornering fast is completely eliminated. The small degree of body roll present in the standard 500 on fast bends disappears and the Abarth corners completely flat with all wheels planted firmly on the ground.
"Because of its entertainment value and surprise character, we made the most of the Abarth"s performance as often as possible. Even so, during 310 miles of spirited driving largely in towns, our overall consumption worked out at 33.5mpg.
"The Abarth is no noisier than the 500, despite the two very large-diameter tailpipes of the special exhaust system."
We concluded by saying: "The 500 is an individual car. One staff member from the provinces thought it a bad joke initially, but mellowed later. Others based in London found it extremely practical and began to wonder after the first few weeks how we had managed without it.
"With the effective Abarth conversion, it seems just as reliable and far more agile at leaping out of the path of buses at rush-hour peaks. Both cars are fun to drive and show well the Italian flair for knowing what a driver enjoys, even at this economy end of the market."
Tweet Widget
Facebook Like
Google Plus One
Nguồn: www.autocar.co.uk