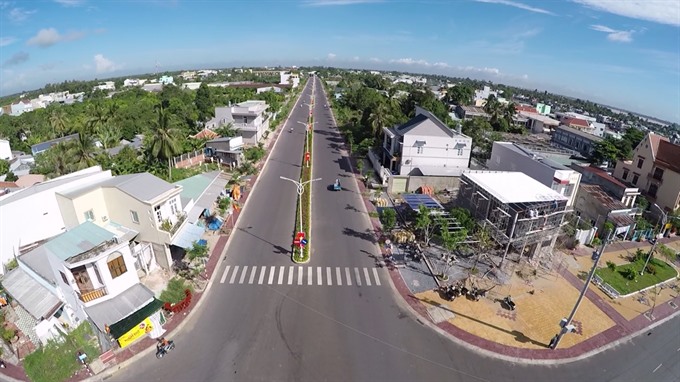 An aerial view of Sa Đéc City of Đồng Tháp Province. Average income per capita in the province has reportedly reached over VNĐ36 million currently. — VNA/VNS Photo Chương Đài
Viet Nam News
AN GIANG — Party General Secretary Nguyễn Phú Trọng has commended An Giang for setting a clear development strategy, noting that the Mekong Delta province has strong growth potential and capable local officials.
The Party leader held a working session with An Giang's key officials on Sunday as part of his two-day trip to the province to inspect the implementation of socio-economic and defence-security tasks as well as performance in building the Party and political system.
Stressing that An Giang has a strategic position in the Mekong Delta, Trọng acknowledged that the province has made important achievements in the recent time, evident through improved infrastructure, better living conditions for residents and lower poverty rate.
He also noted that the local leadership has constantly been strengthened, helping the province implement the Party Central Committee's resolutions and accelerate administrative reform.
He expressed hope for the province's stronger development in its chosen direction of developing high-quality and high-value agriculture, a field where the province boasts many untapped advantages.
The Party General Secretary shared his concern that the tasks ahead are difficult, while there are many shortcomings in existing policies and mechanisms. Sourcing capital is also a challenge. He noted that not only An Giang but also many other localities face these problems.
Therefore, An Giang should develop more creative ideas and effective measures to carry out the Party's policies, he said. In order to do that, the province needs a contingent of capable officials, Party members and civil workers, and a strong Party organisation and political system, he said.
He welcomed the province's five proposals on transport connectivity; erosion prevention; response to climate change and rising sea level; policies to develop land to attract investment; and support for border localities.
The Secretary of the provincial Party Committee Võ Thị Ánh Xuân reported to the Party leader that the poverty rate in the province has dropped to 5.24 per cent.
The province has adopted a project on creating a land fund for hi-tech agriculture, which helped attract many investors. In 2016 and 2017, An Giang attracted 45 investment projects in this sector with total capital of over VNĐ7.2 trillion (US$316.8 million), up 30 projects and VNĐ6 trillion compared to the figures in 2015.
Also during the trip, Trọng toured Mỹ Phú Commune in Châu Phú District and visited the construction site of Cao Lãnh Bridge across Tiền River, one of the two tributaries of Mekong River. He also presented gifts to Vietnamese Heroic Mother Lê Thị Tài in Long Xuyên City.
Inspects Đồng Tháp
Earlier on Saturday, Trọng visited the Mekong Delta province of Đồng Tháp to inspect its socio-economic performance and Party and political system building.
During a working session with the provincial authorities, the Party leader praised the province for outstanding achievements in various fields, with a number of effective models and new practical initiatives.
He noted that economic development is a core task and Party building is a crucial task while national defence-security is a regular task.
Currently, average income per capita in Đồng Tháp reaches over VNĐ36 million, lower than the country's average of more than VNĐ50 million, indicating that the province has ample room for improvement, he said.
The leader called for attention to strengthening ties with Cambodia and neighbouring a localities to facilitate people-to-people exchange and improve residential management.
He attached importance to Party building and rectification as well as fighting corruption, negative phenomena and wastefulness.
The Party chief suggested devising specific goals and breakthrough measures between now and 2020.
The provincial authorities proposed State funding for transport infrastructure, including Cao Lãnh – Mỹ An and An Hữu – Cao Lãnh sections of national highways.
They also asked for refinement of regulations on extending the land quota and switching to an agricultural economy based on goods and products instead of services.
Đồng Tháp is one of the three localities chosen to pilot agricultural restructuring. After three years, local farmers and firms have gradually scaled up their activities from individual, subsistence-based production to larger-scale harvesting and distribution, towards building a farm produce chain that meets market demand. A number of high-tech farming models have been launched.
The province now ranks first nationwide in terms of tra fish output and third in rice production. It has become a key hub of fruits in the region, with many being exported to markets such as the US, Japan, the UK and Australia.
Community and agricultural tourism have also contributed to increasing farmers' incomes.
Đồng Tháp also leads the region in labour export with thousands of young workers landing jobs overseas, bringing home trillions of đồng. They are also behind a number of start-up projects.
The locality is now home to 45 club houses with nearly 2,000 members with an aim to inspire farmers' innovation in the spirit of self-control and mutual support.
In the morning the same day, Trọng offered incense and flowers at a relic site dedicated to Nguyễn Sinh Sắc, the father of President Hồ Chí Minh in Cao Lãnh City.
Earlier on Friday, at a working session with authorities of Tân Thuận Tây Commune, which was recognised as new-style rural area in late 2017, the Party chief lauded local authorities and people for their achievements over the past years.
He said he hopes that they would continue staying united to deal with emerging issues and reap new successes.
Later, he visited Tam Quế club-house, one of the two operating in the community model. Last month, it formed an organic mango farming group to bring practical benefits to local residents, which was lauded by the Party chief as effective and should be expanded to other localities.
He presented gifts to several outstanding households in the commune. — VNS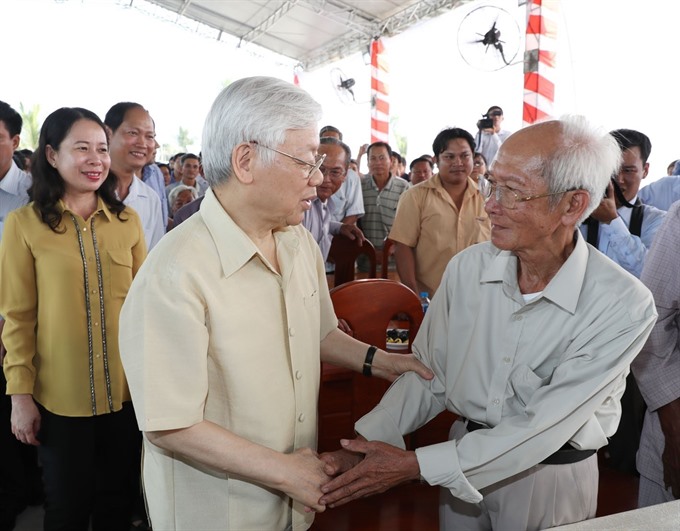 Party General Secretary Nguyễn Phú Trọng (centre) meets workers and residents in Mỹ Phú Commune, Châu Phú District in the southern province of An Giang as part of his working visit to the province. — VNA/VNS Photo Trí Dũng
Nguồn: vietnamnews.vn