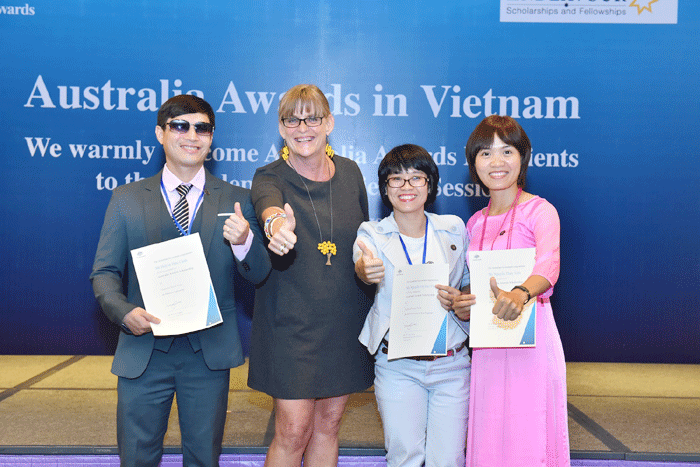 Karen Lanyon, Australian Consul General in Ho Chi Minh City, and the three people with disabilities: Huynh Huu Canh, Nguyen Thuy Tien, and Nguyen Thi Hai Yen. (Photo: dangcongsan.vn)
Huynh Huu Canh of Kien Giang province lost his eyesight in an unexploded ordnance accident when he was 8 years old. Since then Canh has grown up in darkness but his courage and faith have helped him shine.
After years of great effort, Canh graduated from a special education faculty at Ho Chi Minh City University of Education. But his career path had not been at all easy until he was finally recruited by Kien Giang province's Social Support Center.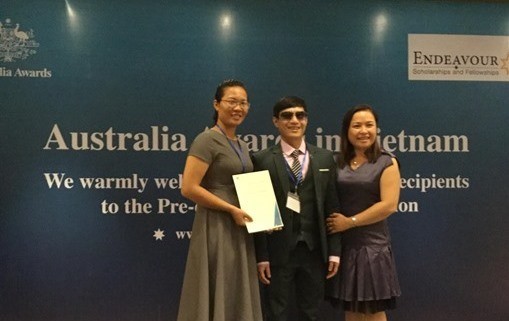 (Photo: Gia Loc)
While Canh was at university, he dreamed of studying abroad some days to provide mental health services for the disabled and other vulnerable groups. His dream came true when he earned the Australia Awards Scholarships 2017.
The scholarships are part of a broader investment by the Australian Government called Aus4Skills, which includes Short Courses and informal learning opportunities to address knowledge and skills gaps and help Vietnam realize its goal of becoming a prosperous, socially inclusive country.
Canh said: "I'm happy because this will be my first time studying and working completely in English."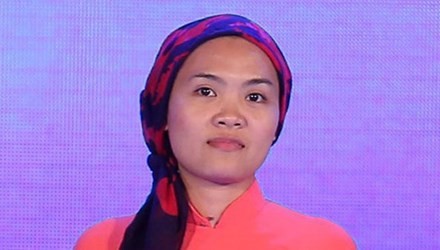 Born in 1988, Nguyen Thuy Tien cofounded and now operates the Breast Cancer Network of Vietnam (BCVN). (Photo: zing.vn)
29-year-old Nguyen Thuy Tien cofounded and now operates the Breast Cancer Network of Vietnam (BCVN), the first organization to provide information about breast cancer.
Tien said she wants to study abroad to improve her management, operations, and communications skills in order to help more people who are fighting breast cancer and to improve public awareness about the disease.
At first she didn't know how to apply for a scholarship because Tien suffers from reading disorders.
Tien told VOV: "When I study abroad, I'll keep running the network from overseas. I intend to introduce my network to the Vietnamese community in Australia so that they will have more information about the disease for early detection and treatment."
40-year-old Nguyen Thi Hai Yen of Da Nang city says her handicap has made it hard for her to find a job. After Yen was finally hired by a garment company, she has realized that disabled people, especially those with limited mobility like her could be an abundant source of personnel for small and medium-sized companies. She has encouraged the company's owners to hire disabled people.
Yen says that once she completes her study abroad, she hopes to return to her company and support other disabled people.
Nguồn: vovworld.vn